Skip to content
Skip to navigation menu
Browsing at:
Builders Warehouse Gaborone
Now open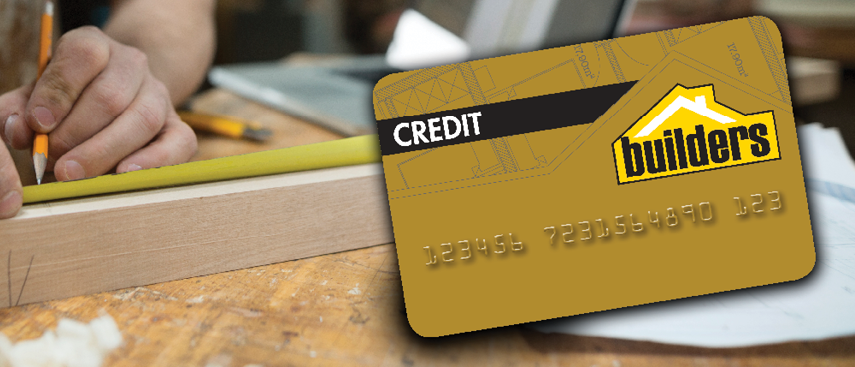 Convenient way to purchase regularly across a wide range of products with one credit limit of up to R50 000. It's the perfect solution to stretch your budget.
How to apply
Click on the "Apply for credit" button above, to apply on-line
Applications can be done at the Money Centre at your local Builders store
Apllication Criteria
•You must be 18 years or older
•Have a valid SA ID or drivers licence
•Be employed and earn R2000 or more per month
•You will be required to provide proof of income documentation
Benefits
Get these benefits when you're approved for Builders Credit
• Flexible repayment options, with affordable monthly statements.
• Repayment options: revolving, 24 & 36 months.
• Up to R50 000 credit granted
• You can use your Builders Card at any Makro,Dion Wired or Game store, or at any store within the
RCS network.
•Free additional cards for up to 3 friends or family members.
•Access to Self-Service via our website or download the App at your play store
•Free SMS notifications for all your card purchases
•Free Monthly statement via Email or SMS
•Customer Protection Insurance for your peace of mind includes:
oDeath Cover (which covers your full outstanding balance)
oPermanent Disability (which covers your full outstanding balance)
oTemporary Disability (covers up to 12 months instalments);
oLoss of Income (covers up to 12 months instalments)
Underwritten by Guardrisk Insurance Company Limited, an Authorised Financial Services Provider.
T's and C's apply.
Contact Us
Customer Care 0861 727 740
Email: Builders@rcsgroup.co.za
Supporting docs fax 021 597 4728
Supporting docs Email address docs@rcsgroup.co.za
Frequently asked questions
1. What credit limit will I get?
•Your credit limit will be determined by your own individual profile taking into account your affordability.
2. How much does Builders Credit cost?
•A flat monthly service fee will be charged to your Builders Credit account as well as competitive interest rates applied on all purchases.
3. How do I collect my Builders Credit card?
•You can collect your Builders card at any Builders store nationwide.
4. Can I view my account on-line?
•Yes, you can view your account on-line by registering for Self-Service or by downloading the Builders Credit App from your play store.
5. How do I register for Self-Service?
•To register, click on the "my account" tab and follow the instructions. Please have your account and mobile numbers ready. The following services will be available via Self-Service:
oCheck your available credit
oDownload previous e-statements
oOpt-in for e-statements
oUpdate Email address
oPay your account
6. Where can I find my account number?
•Your account number can be found on your monthly statement or you can call us on 0861 727 740
7. How do I check the amount I need to pay or have available to spend?
•The amount will reflect when you log in to Self-Service as well as on your latest statement.
8. Can I use my Builders retail loan to shop on-line?
•The Builders card can now be used both in-store and online when shopping for your favourite products.
9. How do I pay my Builders Credit account?
•There are many ways to pay your Builders Credit account:
oDebit order. A payment is automatically debited from your bank account on the due date that you have selected.
oIn-store, by visiting any Builders store in South Africa
oEFT payment, simply pay the required amount by using your 19-digit account number on the front of your Builders card. Please only use these banking details when making an EFT payment.
Bank: Standard Bank
Account name: RCS Cards
Account number: 271 028 157
Account type: Current Account
Pre-defined beneficiary: Builders Credit
Beneficiary reference: 19 digit card/account number only
10. How do I set up a debit order to pay my Builders Credit account?
•Call us on 0861 727 740 and we will set it up for you.
11. How much do I need to pay each month?
•Your monthly statement reflects the instalment that you need to pay by the 1st of the month.
12. What should I do if I lose my card?
•Call us on 0861 727 740 and we'll block the card immediately
•You can then go to any Builders store in South Africa and we'll provide you with a replacement card at a nominal fee.